In collaboration with Jeff Walters' lab at Virginia Tech, we continue a 38-year RCW demographic study initiated by the North Carolina State University (NCSU) RCW Research Project in 1978. SEI maintains the related RCW demographic databases, and conducts a variety of studies on the ecology, population biology and behavior of the RCW.  Insights gained through intensive study of the Sandhills RCW population have been applied throughout the Southeast.
Important management tools were developed here in the North Carolina Sandhills, including artificial cavities and cavity restrictors, as well as the management strategy that is the basis of the current RCW recovery plan. See the following section for a selection of RCW publications accomplished through research in the Sandhills.
In addition, SEI biologists intensively monitor + 300 RCW clusters annually to determine group status and reproductive effort.  The following areas are part of the long term research:
Western Fort Bragg Military Installation and Camp Mackall
State-owned Sandhills Game Land, Weymouth Woods Sandhills Nature Preserve and McCain Forest
The Nature Conservancy's Calloway Forest
Southern Pines-Pinehurst residential properties and golf courses
Private properties in Moore and Hoke Counties that support RCWs
Intensive population monitoring entails:
Annual cluster and cavity tree status inspections
Routine nest checks from April to July to assess breeding effort
Color-banding of nestlings and unbanded adults
Fledging checks to document reproductive success
Comprehensive adult group census
Cluster activity status and group census provide useful indices for management designed to enhance RCW foraging and nesting habitat. RCWs are considered an 'umbrella species' because management and conservation which promote its population growth (e.g., long forestry rotations, prescribed fire) are also beneficial to associated species and ecological communities.
Visit this recent BioGraphic article about SEI and Partners' work sustaining recovery for the Sandhills RCW population.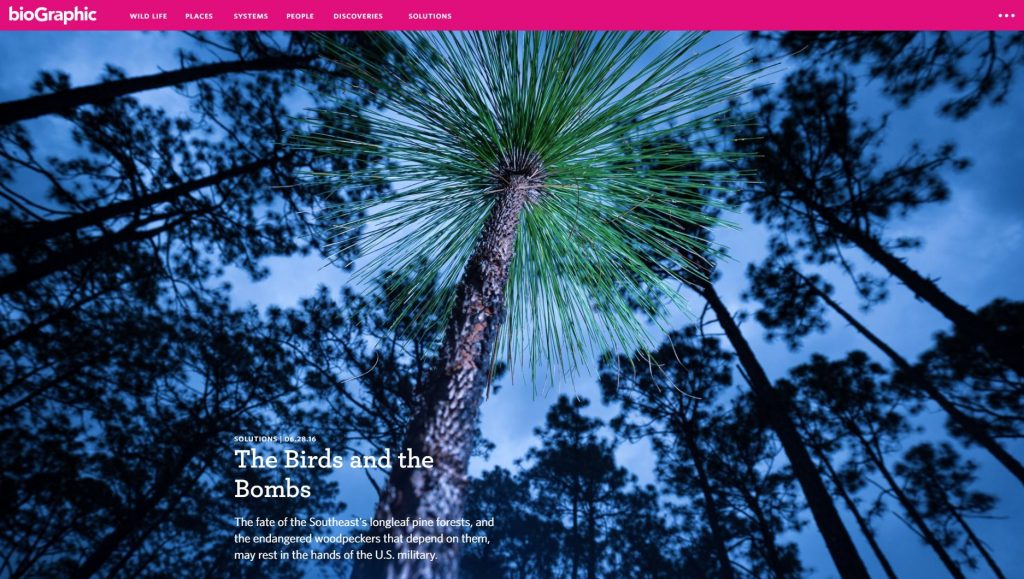 LINKS:
Fort Bragg Endangered Species Branch
Weymouth Woods – Sandhills Nature Preserve
NC Wildlife Resources Commission
SELECT RCW PUBLICATIONS
RCW management
Walters, J. R.  1991.  Application of ecological principles to the management of endangered species: the case of the red‑cockaded woodpecker.  Annu. Rev. Ecol. Syst. 22:505‑523.  pdf
Drilled cavities
Copeyon, C. K., J. R. Walters and J. H. Carter, III.  1991.  Induction of red‑cockaded woodpecker group formation by artificial cavity construction.  J. Wildl. Manage. 55:549‑556.  pdf
Restrictor plates
Carter, J. H., III, J. R. Walters, S. H. Everhart & P. D. Doerr. 1989.  Restrictors for red‑cockaded woodpecker cavities.  Wildl. Soc. Bull. 17:68‑72.  pdf
Foraging habitats
Walters, J. R., S. J. Daniels, J. H Carter, III and P. D. Doerr.  2002.  Defining quality of red-cockaded woodpecker foraging habitat based on habitat use and fitness.  J. Wildl. Manage. 66:1064-1082.  pdf